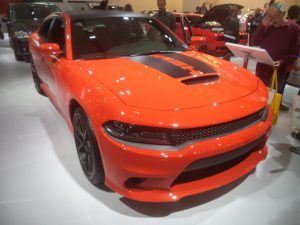 The 2018 Dodge Challenger SRT Demon is the most powerful muscle car on the road, with a supercharged, 6.2-liter Hemi V-8 that can produce 840 horsepower and 770 lb.-ft. of torque. According to Dodge, its awesome abilities make it the fastest production car in the world. Here are some more of the features of this amazing automotive beast.
it's designed for racing
Like the earlier Challenger SRT Hellcat, this Dodge is made for racing. It can go from 0 to 60 mph in just 2.3 seconds, and it's street-legal. The Challenger SRT Demon meets federal emissions standards, and it comes with a five-year, 60,000-mile powertrain warranty and a three-year, 36,000-mile vehicle warranty.
It even comes with special skinny tires for drag racing and the equipment needed to change them at the track and then switch back to street-legal tires after the race. You can choose a vehicle with front and rear passenger seats, or you can have them removed. This makes the Challenger SRT Demon 113 pounds lighter and gives it even more speed. You can also remove the sound insulators, sound system, and carpeting.
lots of oomph under the hood
The SRT Demon can run on either 100-octane racing fuel or premium 91-octane fuel with the optional Direct Connection engine controller. However, you'll only get the full 840 horsepower from the engine when you use 100-octane fuel. With 91-octane fuel, you'll get 808 horsepower, which is still extremely good for a street-legal vehicle. The Challenger SRT Demon also has a Power Chiller liquid-to-air intercooler chiller system, and the After-Run Chiller continues cooling the supercharger even after the engine stops. Other options include a 19-speaker Harman Kardon stereo, a sunroof, and heated and ventilated leather front seats. However, these extra comforts add weight to your Demon.
a style that's at home on the track
The new Challenger Demon has the biggest functional air scoop on any production car. It's an even more powerful-looking version of the Challenger's classic muscle car look. Wide-body fender flares make this Challenger 3.5 inches wider than the standard model, covering the Demon-exclusive, Nitto drag racing tires.
It usually comes with cloth upholstery to reduce weight, but you can upgrade to Laguna leather and Alcantara suede upholstery. The Demon comes with an Alcantara leather-wrapped flat-bottom steering wheel with convenient paddle shifters. A four-point harness bar for racing is also available. A carbon fiber badge displays the vehicle's build sequence number prominently on the dashboard. The 2018 Challenger SRT Demon will be made in Canada, with 3,000 vehicles destined for the markets in the United States.
At Gupton Motors, you can find a great deal on a new 2018 Dodge Challenger SRT Demon or a variety of other new or used models. We specialize in quality Dodge, Jeep, Ram, and Chrysler vehicles and have an excellent tire center and parts and service department. Explore our website, or visit us for a test drive and more information about this lightning-fast beast.
https://www.flickr.com/photos/zytonits/32699241985/sizes/l/
lickr.com/photos/tensafefrogs/3433334474/sizes/l