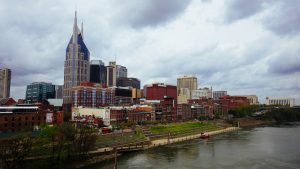 So you're new to Nashville and want to get out and get a taste of the legendary Music City. Or maybe this is your third decade here, and you're ready to finally immerse yourself in the culture of the city. Whatever your circumstances, Nashville is waiting. With the kids out of school and you in desperate need of a day to relax, now's the perfect time to see all that Nashville has to offer, from festivals to food, some classic and some contemporary. Here are three cool things you can't miss this summer in Nashville.
music city walk of fame
Are you a big Country music fan? Or a fan of really any genre at all? Then you're in the right place. Nashville is called Music City for a reason. Not only do we host some of the best shows around, we also have our very own Walk of Fame. Who needs Hollywood when you can walk the stars right here in Nashville?
On Demonbreun Street between Fourth and Fifth Avenues South, the Music City Walk of Fame honors those who have contributed to the world through music and also have a special connection to Nashville. Recently inducted into the Walk of Fame were Garth Brooks, Trisha Yearwood, and Mayor Karl Dean.
music city food and wine festival
Summer in Nashville is full of festivals, and if you haven't yet made it to one, you need to check out the Music City Food and Wine Festival. Grammy-Award winning band Kings of Leon is teaming up with legendary chef Jonathan Waxman to deliver this festival for the fifth year in a row. Running from September 15 through September 17 at Bicentennial Capitol State Mall park, the Music City Food and Wine festival features some of the best food and music to pass through Nashville.
Come to the Grand Taste Pavillion and try food and drinks from nationally and regionally acclaimed chefs and wine experts. Plus, you can expand your cooking repertoire by attending some classes taught by the pros. Harvest Night will be a huge event where you can eat food from world-renowned chefs while enjoying live music performances. On Saturday, Pappy Hour will feature an exclusive tasting hosted by the Old Rip Van Winkle Distillery. Whatever your tastes, there's something at this festival for you.
nashville shores
What better way to enjoy a hot summer afternoon than by cooling off at one of the best water parks in the nation? Located at 4001 Bell Road, Nashville Shores is much more than just a pool — it's a 385-acre outdoor experience. Sure, you can cool off in the huge wave pool or on the lazy river, but you can also ride zip lines, take on ropes courses, and even take a boat out onto J. Percy Priest Lake.
Nashville is full of life all year long, but the summer is the perfect time to get out and experience the best of the city. So get out your calendar, save the dates, and make some memories!