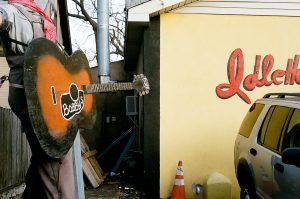 There's something irreplaceable about a classic dive bar, a local watering hole where friends have gone for years. Nashville dive bars are loved for their smoky air, darker lighting, regulars with stories to tell, and of course great music. The following dive bars are all different, but each offers the kind of feel that the latest crisp, chic, artsy bars can't provide. Take a free evening to visit whichever one suits you best.
melrose billiards
Melrose is set in the basement of the historic Melrose Theater. This is the place to try if you're all about pool or ping pong, and of course don't mind the smoke collected within the underground space. There are plenty of TVs to watch evening sports games, but the real draw is the endless thrill of competing at a table. As a tip, locals recommend setting aside a specific set of clothes to wear to Melrose on each visit, to protect the rest of your wardrobe from the smoky odor.
bobby's idle hour
This bar has been on Music Row since 1979, and its small, welcoming stage has held all sorts of renowned Nashville artists. Bobby's is a prime spot for up-and-coming artists to get exposure, so you'll often hear the latest new Nashville talent whenever you visit. Stop by if you're looking for a charming atmosphere, good tunes, intriguing music history, and an endless supply of MoonPies and Natty Light.
santa's pub
One of the most unique dives in the Nashville Fairgrounds, Santa's Pub has attracted attention from visitors all over the country. As you might imagine, this is the one place in Nashville where the holiday spirit runs 365 days a year, and you can sing holiday Karaoke any night. The double-wide-trailer-turned-bar has $2 beer, a safe and friendly atmosphere, and impressive Santa murals all over the walls. You may find yourself dashin' and blitzin' your way to this pub every weekend, because the regular source of holiday cheer is a real treat.
dino's
If you're after a hearty pub meal to go with your drinks and company, Dino's is one of the best options in all of Nashville. The oldest dive bar in the East Side, Dino's serves savory Frito pies, breakfast melts, sandwiches, and more by Lisa Donovan and Mayme Gretch of Utterly Nashville, the best bakery in Nashville and perhaps in Tennessee. Hot pies washed down with cold beer is a tasty combination, but if you prefer mixed drinks start the work week right with their Mojito Mondays.
Dive bars have things about them that you can't get anywhere else, and no two are the same. A lot of the things that draw people away from dives are in fact what draws other people to them, and there's lots of charming, bitter appeal to the places above. Every single one, however, has a consistent reputation for good service and good people, so give one a try even if you've only casually considered visiting such a place.