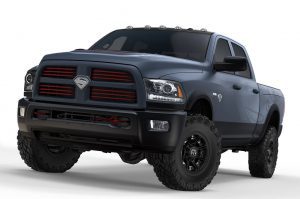 Ram has offered many special editions across its many generations, and some were almost as big of a hit as the regular model they were based on. Check out these special edition Rams from past and present, and what makes them worth getting.
1976 warlock
The Warlock was the very first limited edition model the Ram line ever produced, making it particularly important for both its historic value and rarity. Many remember the Warlock for its gold wheels over square wells, but there's a lot more that makes it easy to spot.
With a short wheelbase, innovative bucket seats, and oak sideboards, not to mention the universally black interior with all models and exterior gold striping, the Warlock is a vintage treasure Ram truck fans can recognize instantly, if they ever see one. The chances are small, but that only makes it all the more special.
2017 1500 night
The recent Night edition of Ram's starting 1500 Crew Cab truck adds several monochromatic exterior adjustments, the most obvious of which is a solid black honeycomb grille, 20-inch black aluminum wheels, dark Ram badges, and a sport performance curved hood with dual air intakes.
There's more to the Night edition than appearance, however, as this model offers several MOPAR performance parts if you want extra thrills. One of the best optional features is a Cat-Back exhaust with a vigorous purr, but there's also a cold-air intake to keep the 1500 Night running smoothly under heavy workloads.
1978 little red express
This followup to the Warlock is even more unique and unforgettable thanks to dual chrome side stack exhaust towers behind the cab. The Little Red Express was a sporty model for its time, and its bright red appearance mixed with chrome makes it look a bit like a one-man fire truck.
If you get a chance to look inside the bed, you'll see something nearly unbelievable: full wood paneling. The fragility of wood kept outdoors makes a model in perfect condition insanely valuable, and the most highly treasured item a Ram truck collector could own.
2017 1500 copper sport
Released alongside the Night Edition, the Copper Sport is another great option for drivers after a 2017 Ram 1500. While the Night edition offered a mix of exterior flair and performance enhancements, the Copper Sport is an external package only, and adds either 20-inch wheels for 4×2 models or 22-inch wheels for 4×4.
The main appeal is a copper tone to the grille, bumpers, and overall body contrasting against stark black performance hood and badges at the tailgate and sides. The interior also gets copper colors and a nine-speaker Alpine premium sound system with a subwoofer.
Ram's current lineups always offer a mix of special editions that add on more style, entertainment, or MOPAR performance features. If you're interested in any current special editions of Ram trucks, feel free to browse our inventory or contact us by phone or email. We're ready to help you find the perfect truck among Ram's many diverse options.
https://www.flickr.com/photos/ralphpaglia/16428488031/sizes/l