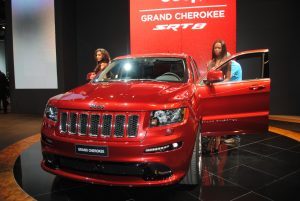 You may have heard of the Jeep Trailhawk models, a special trim level of most of their current lineup that improves each model's already great off-road capabilities. The Grand Cherokee has a Trailhawk model, but Jeep has introduced a new converse option as well: the Grand Cherokee Trackhawk. Let's take a look at what this intriguing and soon-to-arrive new option has to offer.
killer powertrain
The 2017 Grand Cherokee puts out at most 475 horsepower and 470 pound-feet of torque if you opt for the top-class SRT with an exclusive V8. While those numbers are more than enough to keep the hefty SUV rushing past smaller vehicles, the Trackhawk pushes things to a new level with a supercharged 6.2-liter V8 with 707 horsepower, 645 pound-feet of torque, and 11.6 psi of maximum boost pressure. Jeep states that the Trackhawk goes from 0-60 miles per hour in a stunning 3.5 seconds and has a top speed of 180 mph, both unheard of in the segment.
equipped for gear heads
As the name implies, the Grand Cherokee Trackhawk is filled with performance driving features to help you get the best course times. The standard 8.4-inch infotainment screen includes Performance Pages, an app that tracks every imaginable statistic when running laps and pushing the engine to the limit. You'll get constant horsepower and torque readings, get the exact temperature of the engine, and you can even save the most impressive pieces of data as screenshots.
advanced driver control
The 2018 Grand Cherokee Trackhawk pairs its V8 with a TorquFlite eight-speed automatic transmission with paddle shifters, mixing the polished and reliable acceleration of an automatic with instant driver-controlled shifts for special maneuvers. Then there's the five-mode Selec-Track system, letting drivers adjust the suspension, transmission, steering, and wheel power distribution at any time.
helpful non-track features
The Trackhawk isn't above practicality, because the Selec-Track system also includes a Snow mode that evenly applies torque to every wheel, and even a towing mode that gives the Trackhawk a maximum towing capacity of 7,200 pounds. Worried about leaving your Trackhawk in someone else's hands? Put it in Valet mode to greatly reduce its top speed and horsepower potential. A special Custom mode allows drivers to adjust every powertrain aspect for specific needs not met by the modes above.
sporty new look
Rear quad exhaust, cold air scoops at the front fascia, wheel flares, side sill cladding, sculpting lines all over the body, and more all contribute to the most aggressive and track-ready Grand Cherokee yet. In place of fog lights, the Trackhawk's front makes room for an airflow inlet that serves as an additional oil cooler, further supporting the SUV for extreme driving.
The Grand Cherokee Trackhawk will be the most powerful and fastest mass production SUV in the world, and it should be here very soon, as Jeep confirmed the release for late 2017. If you're interested in a Grand Cherokee model or other sporty Jeeps, stop by our dealership or contact us by phone or email. You may be surprised how many Jeep models can do more than climb through off-road terrain.
https://www.flickr.com/photos/autovivacom/6144675586/sizes/l