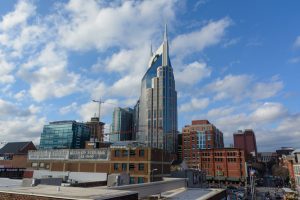 Nashville is quite simply a music lover's dream. It is not only the capital of Tennessee, but it's the proud host of legendary country music venues like the Grand Ole Opry House, the Country Music Hall of Fame, and the Johnny Cash Museum. It also has a rich history with restored old Southern plantations and the famous Jack Daniel's Distillery. This is Gupton Motors' recommendation for the top five sightseeing destinations in Nashville for you to explore.
grand ole opry house
The Grand Ole Opry was founded in late 1925. Today, it is an American icon and Nashville's top tourist attraction. People from around the world visit the Grand Ole Opry for top-of-the-line entertainment such as Reba McEntire or Carrie Underwood. It is often called the "home of American music," and it is the country music scene's most famous stage.
country music hall of fame
In the heart of the city, not far from the honky-tonk bars, great restaurants, and impressive art galleries, is the modern-looking building of the Country Music Hall of Fame. Known as the "Smithsonian of country music," its mission is to collect and preserve the history and traditions of country music.
With fun exhibits and one-of-a-kind educational programs, the museum teaches its diverse audiences about the cultural significance of historical and modern-day country music.
johnny cash museum
Johnny was a beloved American singer-songwriter, guitarist, actor, and author that passed away in September 2003. Cash was an influential and popular musician, and he is still one of the best-selling musical artists of all time. To date, he has sold over 90 million records worldwide. The Johnny Cash Museum proudly showcases many fascinating exhibits and memorabilia from his extraordinary life.
andrew jackson's mansion
Only about 30 minutes from downtown Nashville is the remarkable historical home of Andrew Jackson, the seventh President of the United States. Visitors enjoy walking through the rooms of his mansion, complete with hundreds of his unique belongings and clothing. Fantasize about the personal life of one of America's most famous presidents as you tour the historic estate, known as The Hermitage, and its beautifully groomed grounds for you to enjoy.
jack daniels distillery
About an hour and a half outside Nashville is the town of Lynchburg, which is home to the Jack Daniel's Distillery. Enjoy a tasting tour, or just roam around at your own leisure. Either way, you will be impressed with their Southern hospitality and fine Tennessee whiskey. Jack Daniel's is slowly dripped through 10 feet of firmly packed charcoal made from hard sugar maple, which is one of the reason it tastes so smooth.
Nashville delights and impresses children of all ages with great country music, extraordinary entertainment, rich history, and a unique Southern style. Regardless of your interests, you will be glad you visited Nashville, and since you are only about 30 minutes from Gupton Motors, stop by and say hello to us as well. We love visiting with our friends and neighbors from across this beautiful nation and around the world.