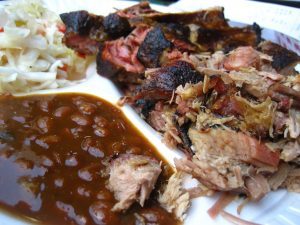 Nashville is affectionately called "Music City" to people around the world, but with its growing reputation as one of the best cities for tasty, finger-licking barbecue, it may soon be better known as "Barbecue Heaven." Whether you prefer a simple barbecue hamburger or slow-cooked pulled pork, you will find some of the best barbecue in the nation right in our backyard.
Our friends and neighbors know how to enjoy the best of everything, from a beautiful new car to decadent barbecue. Therefore, it shouldn't be a surprise that Gupton Motors knows where to get the best barbecue in Nashville.
jack's barbeque
Jack Cawthon opened Jack's in 1976. He has been delighting barbecue lovers from across the globe with his barbecue perfection since his first customers wiped their sauce-stained faces in approval. From the eye-appealing riverfront view, to the sinfully good St. Louis ribs, Jack's Barbeque is the granddaddy of barbecue for a reason. Customers always leave with a big smile on their face and a happy memory to share after partaking of beef brisket and smoked Texas sausage.
peg leg porker
Don't let the no-frills setting of Peg Leg Porker fool you. The restaurant décor may be simple, but the barbecue is divine. No one does Memphis-style barbecue better than Peg Leg Porker. The pulled pork platter and slow- and low-cooked dry rub ribs are a crowd-pleaser every time. Go early, because when they run out, they don't make more until the next day. Patience is a virtue, especially in barbecue.
hog heaven
It is easy to miss its unassuming façade, but locals know it has some of the best barbecue in Nashville. For over 25 years, barbecue lovers have feasted on the barbecue greatness of Hog Heaven. From the smoked turkey with white sauce to the heavenly barbecue chicken, prepare to indulge your taste buds. Pair your entrée with cornbread and black-eyed peas, and we dare you to try to save room for dessert. Don't expect any fancy plates, just good old-fashioned, down-home barbecue.
martin's barb-b-que joint
You might have to stand in line at Martin's Barb-B-Que Joint, but it is worth the wait. Their motto is "Spreading the gospel about whole hog barbeque," and they aren't kidding. At Martin's, they treat barbecue like a religion. The brisket will bring you to your knees in gratitude, especially when slathered in one of their many specialty sauces. In fact, customers can purchase Martin's sauces to enjoy at home. Their drink menu is also extensive. Try one of their moonshine cocktails. They are some of the best around.
There is nothing like a good barbecue to bring a family together. Southern favorite side dishes, such as baked beans, cornbread, coleslaw, watermelon, and perfectly prepared barbecue, just makes people smile and brings folks closer together. That's the idea behind these famous Nashville barbecue joints, where the service is attentive and the food unforgettable. Gupton Motors knows life is precious, so get out there to enjoy Nashville and all it has to offer.